Starting Lines Prepares for Production!

Starting Lines was a Kickstarter Success! For a limited time, while we finalize the first production run of the game, you can still Pre-Order Starting Lines and the Adults Only Expansion Pack
Research shows that childhood creativity is on the decline and we should all be concerned. Our goal of this game is to foster creativity in this modern world through an old-school tabletop game that's simple, fun and expands your mind. Help us make this game a reality by backing this campaign! While the decline in childhood creativity was our impetus for designing the game, it is extremely fun with or without kids and promotes creativity in all. To spice things up a bit for adult game nights, we created the optional Adults Only Expansion pack. Each round of Starting Lines ™ provides a creative prompt (a category) and a constraint (the starting line). What happens next is creativity.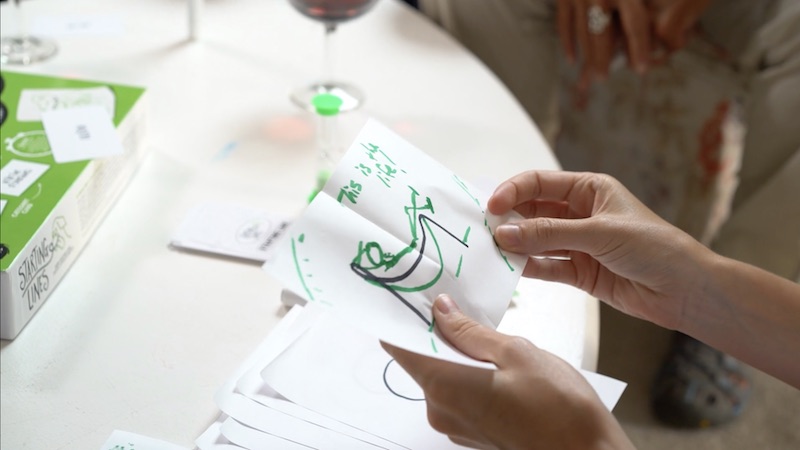 Everyone gets the same Starting Line, but inevitably takes it in completely different directions. You will be surprised by what kids see in a Starting Line and be brought to tears laughing at what your weird friends find.

Quick! You have 2 minutes to turn the Starting Line ™ into a ridiculous image and craft the perfect caption. Don't worry if you can't draw. A good caption might be all you need to win.
2 Minute How to Play Video
FIRST: GATHER 'ROUND
Play with as few as 3 players or as many friends as you can assemble. The game includes enough markers for 6 players, additional players simply need a marker to join in.
THEN: APPOINT A CREATIVE DIRECTOR
In each round of play, there is one Creative Director who serves as judge and several Drawing Players. The Creative Director provides the same Starting Line ™ drawing to each Drawing Player, reveals a category card, and starts the two-minute timer.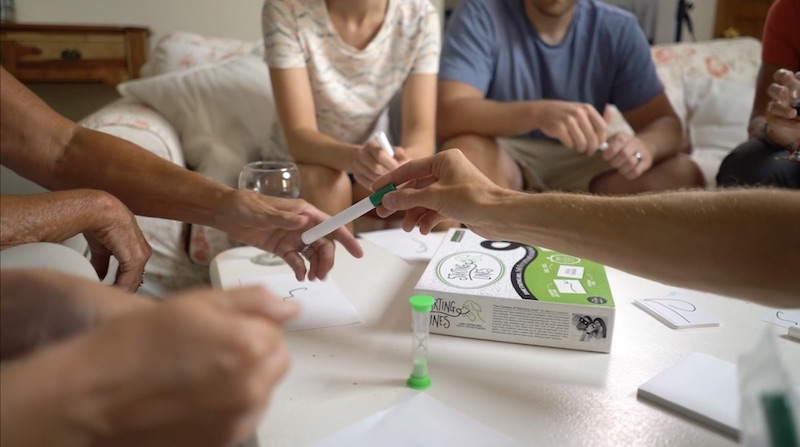 THEN: GET CREATIVE
Each Drawing Player will use a green marker and a creative mind to turn the starting line into a creative or funny drawing and caption that relates to the Category Card prompt. Drawing players make orient the Starting Line in any direction they choose.
SIDEBAR CONVERSATION:
Do you like drawing with golf pencils? 
No? 
No one does… 
This is why Starting Lines will come with 6 quality washable markers. Gameplay will remind you of yesteryear when you spent time scribbling until your markers went dry.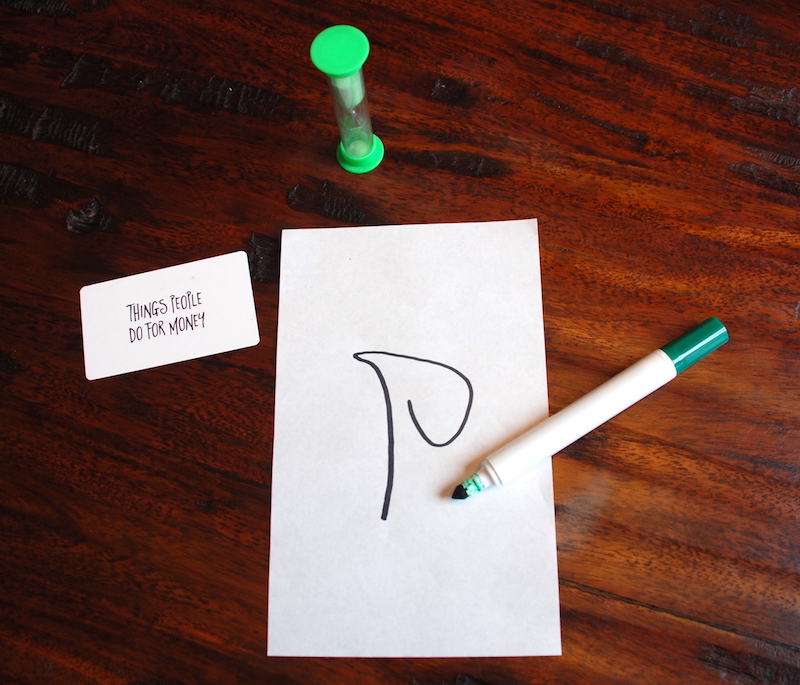 THEN: JUDGE
The Creative Director collects the drawings and selects her favorite as the winner. A collaborative alternative is all players simply laugh and enjoy the drawings and no winner is declared.
WINNING
The winner of that round collects the Category Card and game play continues. 
Play as long as you like. 
The player who collects the most Category Cards wins.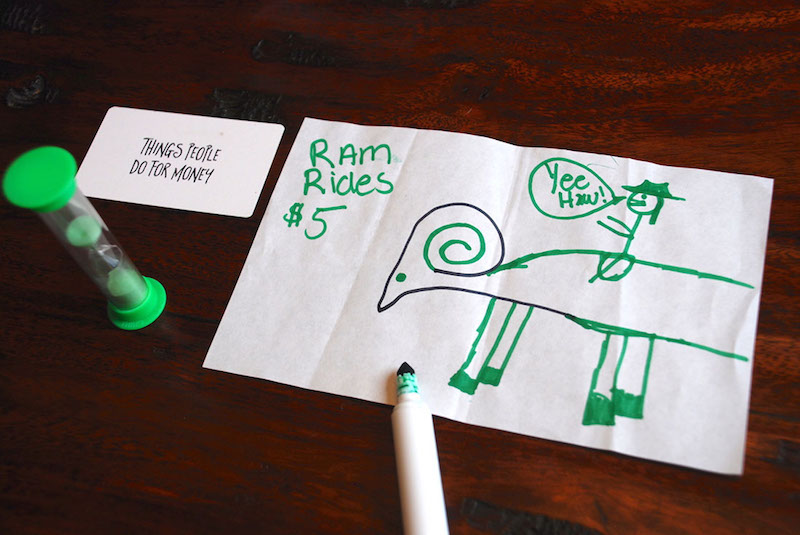 Starting Lines was a Kickstarter Success! For a limited time, while we finalize the first production run of the game, you can still Pre-Order Starting Lines and the Adults Only Expansion Pack
Adults Only Expansion Pack
Creative output is a reflection of one's thoughts and we all know these aren't always PG (even if a group of immature adults play the standard Starting Lines game it can get risque). To encourage immature fun in adults we created the Adults Only Expansion Pack.
Bring creativity to your next adult game night!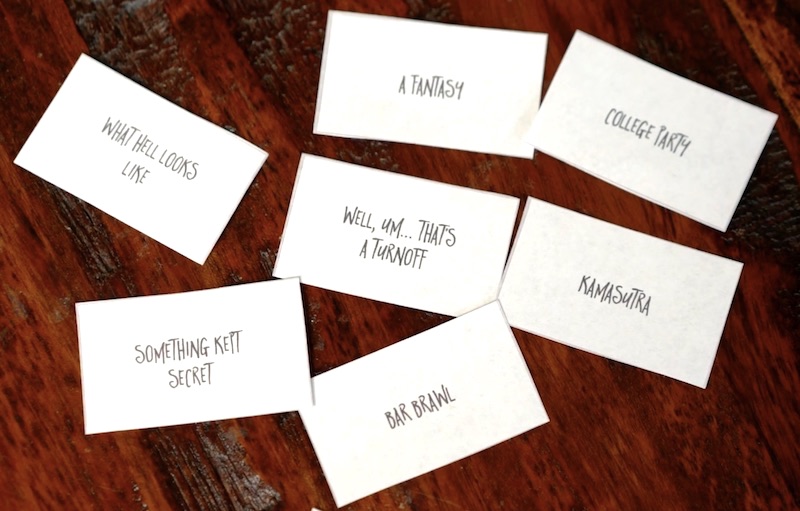 What's in the adult's only expansion pack?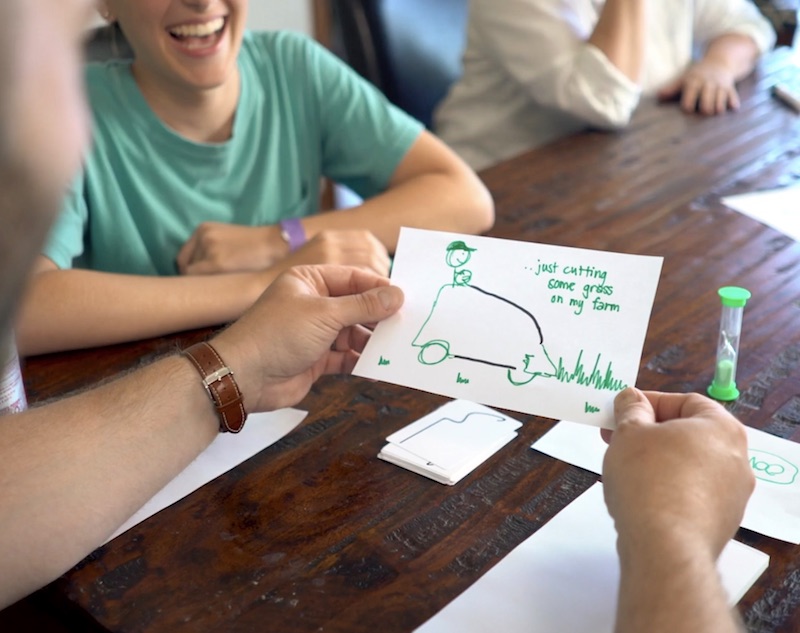 Science Says You Should Be Playing This Game
Starting LinesTM  is so fun that you shouldn't need any more evidence than the laughter and connection with friends and family that is sure to accompany your game play. However, if you're more of a science person, research indicates you should play this game too.
Below are some of the most interesting findings about creativity, including it's decline in children, some links to what might be causing that decline and why you should care.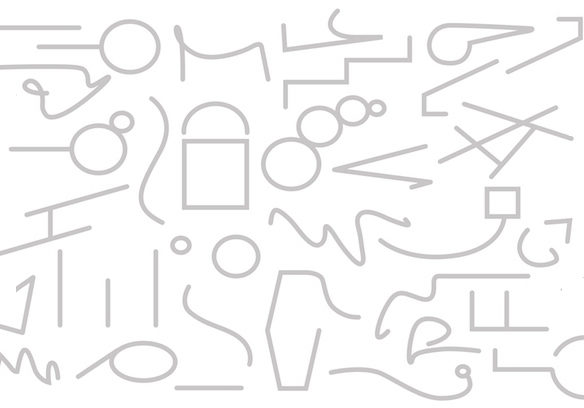 Creativity in childhood is predictive of success later on. In one study, children were administered a test of creativity in childhood. Fifty-year follow-up data demonstrated that creativity was predictive of personal achievements (things like action group work, designing a house, founding an educational program, etc.) (Runco, Millar, Acar, & Crammond, 2016).
 We put a lot of emphasis on IQ. However, in a meta-analyis of the body of research, creativity was found to be a better predictor than IQ of unique accomplishments (Kim, 2008).  
Business leaders believe creativity is key. In a survey of over 1,500 CEOs, creativity was highlighted as one of the top necessary skills to be successful (IBM, 2010).
What creativity crisis? Tell us about the research Dr. Owenz
Creativity Decline
Researchers have studied children's creativity through national samples for decades. From the 1970's to the 1990's, on most measures, children's creativity seemed to be experiencing small increases. 
However, since the 1990's, children's creativity has been steadily declining. The researcher who analyzed this data has dubbed this the "Creativity Crisis," (Kim, 2011). Dr. Kim said of the results, "The results indicated younger children are tending to grow up more narrow-minded, less intellectually curious, and less open to new experiences."
Yeah, I would call that a crisis too.
Dr. Meghan Owenz
Psychologist and Co-Creator of Starting Lines ™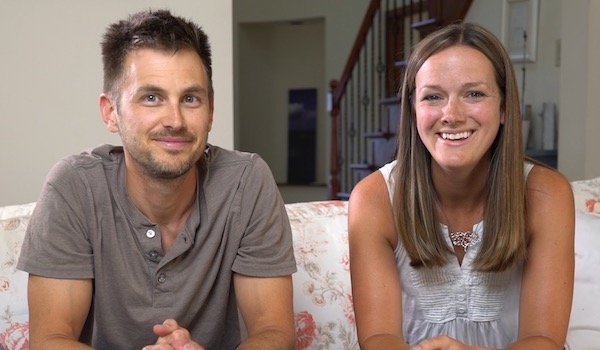 Adam and Meghan are parents of young children. Meghan is a psychologist with an interest in child development. After learning about the decline in childhood creativity, they had an idea. To make a fun and easy game that fosters creativity. Over a year later, Starting Lines™ is becoming a reality.
Learn even more about Adam and Meghan here.
Making a positive difference in this world is important to us and we suspect it is also important to our Kickstarter backers. For this reason we are offering a pledge option that includes both getting a game for yourself and donating a game to children's non-profit organizations that foster creativity such as libraries, schools, boys and girls clubs, summer camps and afterschool programs. 
We have identified many organizations in our area and will handle delivery of the donated games funded through kickstarter. 
Our post-kickstarter long-term goals are that this game does well, so we can fund an expanded (and perhaps global) reach of donated games and ultimately financial resources to organizations around the world that foster creativity in children. This kickstarter campaign starts small, but we have very big goals! Help us make this happen and be part of the Creativity Movement!
Follow Starting Lines on Social Media

Get Updates on Starting Lines Production, Delivery, and Retail Availability
If you missed the chance to pre-order the game, sign up here and we'll let you know as soon as the game is available for purchase and where. We don't plan to email often, but we will updated you on important production updates and delivery dates. 
Starting Lines was a Kickstarter Success! For a limited time, while we finalize the first production run of the game, you can still Pre-Order Starting Lines and the Adults Only Expansion Pack